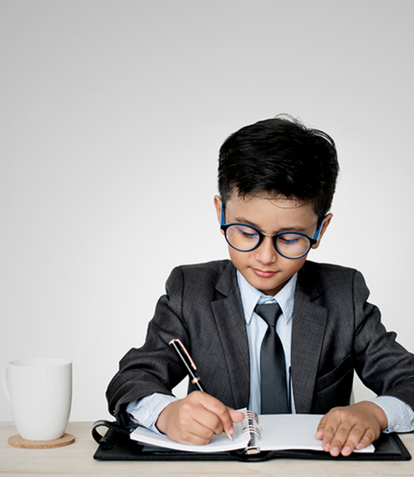 5 Tips for Buying The Right Eyeglasses For Your Child
How to Choose Glasses for Your Child
Choosing the perfect pair of children's eyeglasses frames can be a stressful ordeal. Having options is great, but when there are so many different frames and lens materials to choose from, it can be overwhelming to say the least. Not to mention, you can't forget the importance of eye protection, long-term durability, and warranties.
To help you on your quest of finding the right kids' prescription glasses, here are a few easy tips and things to think about when finding the perfect pair. Firstly, it is important to get a thorough eye exam from a children's eye doctor in order to get the right prescription in the first place. This will then determine the best type of glasses for your needs.
1) Lens Thickness
The thickness of the glasses' lenses will depend on your child's prescription. Stronger prescriptions need thicker lenses and weaker prescriptions can be corrected easily with thinner lenses. However, thicker lenses tend to be heavier and need to be fitted with frames that can protect them properly.
2) Plastic or Metal?
When it comes to frames, both plastic and metal (wire) frames are durable. In recent years, many eyewear manufacturers have begun to duplicate adult eyewear designs into children's glasses. That means you may even be able to find a mini-version of your own pair of glasses for your little one.
3) Lens Material
After you've found the perfect frames, the next step is choosing lenses. When it comes to kids' eyeglasses frames, polycarbonate lenses are highly recommended. They are extremely durable, scratch-resistant and offer excellent optics. Not to mention, they have built in protection against harmful UV radiation and can be made for any eye prescription.
It's wise to stay away from glass lenses as these can easily break and cause serious eye damage.
4) Comfort Is Key 
Protection and improved vision are the most important factors when choosing glasses for children. If you are going through the process of finding glasses that your child will take care of and love to wear, paying attention to comfort is key. Of course, you want your child to feel good and enjoy wearing their glasses – otherwise it will be very difficult to get them into the routine of wearing them.
Take safety and UV protection into consideration, but don't forget to listen to your child's opinions. After all, they will be the ones wearing the glasses every day and should feel comfortable and happy in their glasses. 
5) Sports Eyewear
If your child has an interest in contact sports, it may be a good time to invest in a pair of kids eyeglasses for sports. Although regular polycarbonate lenses are durable enough, normal prescription glasses frames do not hold up so well when subjected to trauma. Sports goggles like this range from PROGEAR offer that little bit of extra protection and strength while providing the same great vision as normal prescription glasses.
And there you have it! Hopefully these tips will come in handy when you're choosing the perfect glasses for your children. At SmartBuyGlasses, we offer several of the best-selling kids' eyeglasses brands including Bolle Kids and Shadez – and more convenient models from value brand SmartBuy Kids. Check out our full range here.
I've Found Some Glasses for My Child and I'm Looking for Some New Glasses for Myself. What Now?
Nice. You've got the hard bit out of the way. Now, it's time to select a pair of glasses – or even sunglasses – that's right for you. At SmartBuyGlasses we're proud to host a whole range of luxury brands, value models, cutting-edge technologies and more. We stock loads of brands that offer progressive lenses – just select your new prescription on checkout. If you've seen a pair you like the look of, but aren't sure how they'll look 'on-face', why don't you have a look at…
Virtual Try-On
SmartBuyGlasses' revolutionary Virtual Try-On tool is an advanced online solution to the problem of not being able to check out a pair of glasses in-hand. It's simple and free! See what you look like wearing different designer sunglasses or eyeglasses from home in just 2 easy steps.
Step 1: record your selfie video. We'll walk you through a simple process and show you how to use your desktop or mobile camera to record a quick, five-second selfie video.
Step 2: try on glasses online! Go to the brand page of any glasses you'd like to virtually try-on. Then, filter by 'Virtual Try-On' in the special features option. You can see yourself wearing any of the glasses that appear! We have over 5,000 pairs of eyeglasses and 6,000 pairs of sunglasses just a few clicks away from appearing on your face!
Given the current pandemic, going to your local opticians' or eyewear store isn't so easy at the moment. The Virtual Try-On tool eliminates the stress of making your mind up in person, the time wasted going to and from the store, and the typically high costs of visiting a brick-and-mortar shop. It really is the perfect socially distanced try-before-you-buy!
Arise Collective™ Clarity prescription lenses
SmartBuyGlasses offers groundbreaking durability, pristine clarity and perfect vision – all in the same lenses. Arise Collective™ Clarity prescription lenses are made for the everyday wearer, but also offer advanced protection making them suitable for any adventure.
The Arise Collective™ Clarity lens collection comes packed with protective elements to provide you with an unbeatable pair of prescription glasses. From scratch-resistant and anti-reflective coatings to UV 400 and superhydrophobic protection, these lenses are guaranteed to keep your eyes comfortable in any situation.
These lenses are also aspheric, making them thinner and lighter than many other prescription lenses. These high-performing, durable lenses feature innovative lens technology that provides optimal clarity and comfort in the urban jungle.
Simply choose any frames you like, enter your prescription and select Arise Collective™ Clarity for your lens type. Let's get started!
zFORT® Blue Light Blocking Glasses
Blue light is a potentially harmful form of light. While it is naturally emitted by the sun, electronic devices (upon which we're spending more and more time every day) are also high-level producers. Blue light rays at a wavelength between 415nm – 455nm can damage your retinal cells, which may lead to premature eye ageing and vision problems in the future.
Our exposure to these harmful light rays may also cause a range of other health problems, including poor sleep (according to a 2012 Harvard Medical School study). Find out more about how to protect your eyes from blue light with anti blue light glasses from zFORT®.
Discover more than 180 designer eyewear brands and over 80,000 pairs of sunglasses and glasses for the best prices online at SmartBuyGlasses. Offering game-changing technology, buying glasses online has never been easier. With the help of our Virtual Try-On tool, you can virtually trial thousands of pairs of eyewear from our selection!