This guide is designed to help you find the perfect glasses size when selecting your pair of frames. Here are some tips on how to measure glasses size.  Before we start, it's important to learn some of the vocabulary associated with selecting your glasses frame size.
Temple aligned to
face's width
Eyebrows seen
above the frame
Frame not leaning
on cheeks
There are two main methods that you can use to shop glasses by size: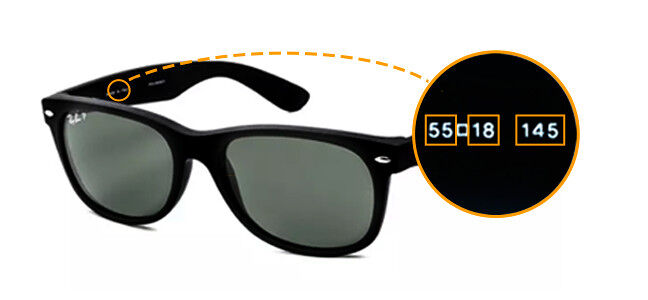 Find your current glasses size
A way of finding your glasses frame size is by looking at the eye glasses size of your current pair. If you're wondering how to read glasses size, just check the inside of the temple. If the glasses were previously fitted by an optician or the glasses sit well on your face, then you can use the measurements on the temple to purchase your new pair of glasses. However, if this is not the case then we advise you learn how to measure your face for glasses, and use the glasses size chart below.
Do it yourself (DIY) measurement
This way to find your perfect fit is by measuring your face size. You can do this by using a mirror and a ruler. First, place the ruler on the temple of your head and measure the distance between one temple and the other. Once you have your measurements, you can use the glasses size guide here to discover your size. Note this can also be used as a sunglasses size chart.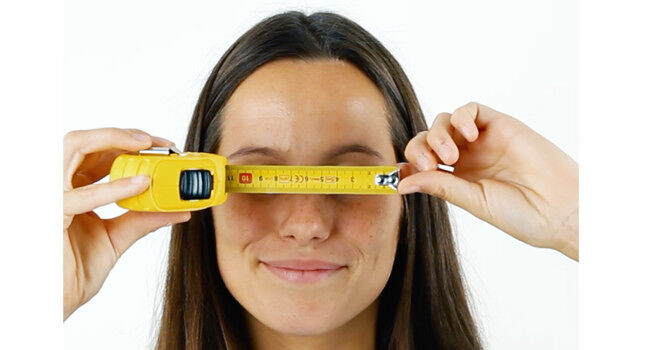 | | |
| --- | --- |
| Face Size (temple to temple) | Suggested Frame Size |
| 115mm or 4,5′ | 49mm |
| 127mm or 5′ | 52mm |
| 130mm or 5,125′ | 54mm |
| 135mm or 5,25′ | 55mm |
| 140mm or 5,5′ | 57mm |
| 146mm or 5,75′ | 58mm |
| 152mm or 6′ | 61mm |
| 140mm or 5,5′ | 59mm (Raptor only) |
For information on selecting the perfect pair of glasses for your face shape, check out these pages or use our virtual try-on tool here.
Find the perfect pair! We offer over 80,000 frames and 180 brands of sunglasses and eyeglasses online – explore their fit and shape with our virtual try-on tool.
What frame suits your face shape?
Discover your favorite Frame Shape!